Carroll Police
Route 3, Twin Mt.
603-846-2200

The Carroll Police Department has been in existence for over one hundred years. Until twenty-five years ago, the department consisted of just one or two officers, who worked on a part-time basis. With the development of the Bretton Ski Area, the building of over 300 condominiums, and the increasing popularity of snowmobiling, the need for further officers has expanded.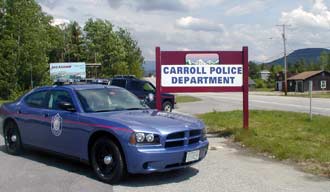 The town encompasses 52 square miles -- half of which is located in the White Mountain National Forest. Per an agreement with the Coös County Commissioners, the department also patrols several unincorporated areas bordering the town. Three major highways bisect the town carrying over one million vehicles annually. When necessary, officers have utilized airplanes, snowmobiles, ATV's and mountain bikes to patrol the town and apprehend offenders.
The department works closely with the NH State Police, Fish & Game, and Coös County Sheriff to provide service to its residents and visitors.
The Carroll Police Department welcomes visitors to the community and works hard to provide a safe and secure environment for its residents and tourists.