Historical Roots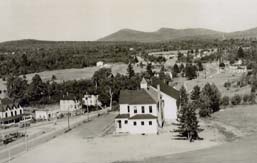 Our journey begins in 1772, with a King's grant from King George Third to the royal Governor John Wentworth, making the birth of Twin Mountain. The initial settlers, hardy pioneers, carved homes from the wilderness, building roads and tending to farms. The forest became their lifeblood, and by 1861, six privately owned sawmills thrived in Twin Mountain. At one point, the mountains were stripped bare to meet the wood demands for the sawmills and iron furnaces, such as the one in nearby Franconia.
The Vacationer's Paradise
The hospitality of Twin Mountain was ignited by the Crawford family when Hannah and Abel transformed their log cabin into an inn. Their son, Ethan Allen Crawford, would become the most renowned guide in the White Mountains. With increasing visitors, the Crawfords constructed the Notch House in 1828, cementing Twin Mountain as a holiday destination.
The advent of passenger trains expanded our reach, leading to the construction of grand hotels like the Twin Mountain House, the Crawford House, and the prestigious Mount Washington in 1901.
With changing times, the grand hotels made way for motor inns in the 1950s as the family car became the main mode of travel.
The Winter Wonderland
The 1960s welcomed winter sports to Twin Mountain as snowmobile trails wound their way into the forests. The ski area at Bretton Woods opened, and beautiful condos with ski trails at their doorstep were built. The Mount Washington Hotel celebrated its first winter season in 1999, ushering in the millennium New Year's Celebration.
The Mount Washington Hotel, now updated and expanded, offers a suite of luxury amenities including golf, spa services, and horseback riding.
Vacation rentals by owner and updated motor courts, motels, and campgrounds also contribute to the vibrant tourism landscape. RV's have revolutionized travel, offering freedom and convenience to our visitors.
Reconnect with Nature
Over time, our mountains have recovered their lush greenery. The Appalachian Mountain Club, along with Federal and State park services, maintain popular hiking trails throughout the White Mountains, attracting tourists globally.
The Appalachian Trail, which crosses US 302 just east of Twin Mountain in Crawford Notch, is a popular spot for hikers to take a breather from the trail. They find comfort in our local campgrounds and motor courts, relishing the opportunity to explore Twin Mountain.
Twin Mountain has evolved throughout the centuries, from a raw wilderness to a beloved destination. Discover our rich heritage, enjoy our luxurious amenities, and reconnect with nature in our scenic paradise. Your adventure awaits!