Ice climbing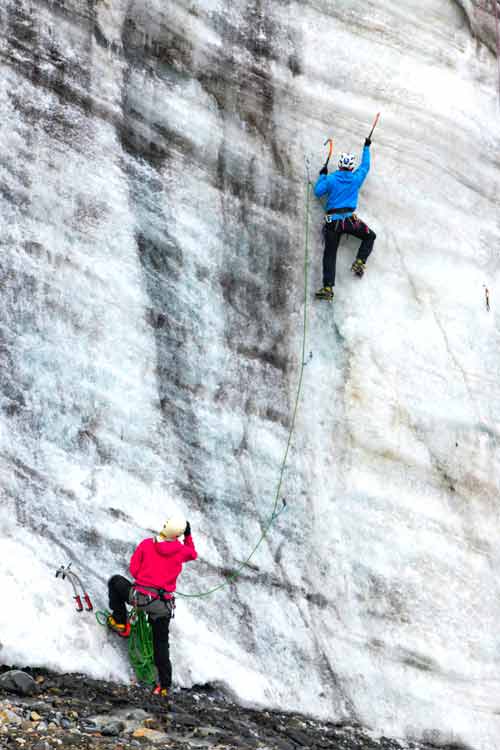 Ice climbing in Crawford Notch
Just east of Twin Mountain, in Crawford Notch, you have several popular places to Ice Hike.
This area offers a variety of routes with varying levels of difficulty, suitable for both beginners and experienced climbers.
Be safe - Take precautions
Franconia Notch Ice Climbing
Frankenstein Cliffs
This is one of the most popular ice climbing areas in Crawford Notch. Named for the distinctive shape of the cliffs, which some believe resemble the profile of Frankenstein's monster, this location offers numerous climbing routes. Some of the famous routes include "Standard Route", "Dracula", and "Pegasus", each with unique characteristics and challenges.
The area provides both single-pitch and multi-pitch climbs, making it a popular spot for ice climbers of all abilities.
Cannon Cliff
Cannon Cliff is a renowned destination for ice climbing, offering long, steep, and challenging routes. It's famous for its iconic ice climb called "Black Dike," which is considered one of the classic ice climbs in the United States.
Flume Cascade
Flume Cascade is a beautiful frozen waterfall located along the scenic Franconia Notch Parkway. It offers a range of ice climbing routes that cater to different skill levels, with options for beginners and intermediate climbers.
Before you start ice climbing, remember to have proper gear like ice axes, crampons, helmets, ropes, ice screws, harnesses, and appropriate clothing to keep you warm. Ice climbing can be very dangerous, so it's important to get a proper introduction, either by taking classes or going with an experienced guide. Always pay attention to the weather, as conditions can change rapidly, and the risk of avalanche can increase with certain weather patterns.